Birth
abt 1122, Chateau de Belin, Guinne, France
Death
1 Apr 1204, Fontevraud Abbey, Maine-et-Loire, France
Burial
Fontevraud Abbey, Maine-et-Loire, France
Spouses
1
Louis VII King Of Franks

, 26G Grandfather
Death
18 Sep 1180, Abbey at Saint-Pont
Burial
Saint Denis Basilica, Paris, France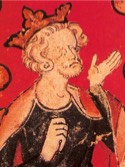 2
Henry II (Curtmantle) King Of England


, 25G Grandfather
Birth
25 Mar 1133, Le Mans, Anjou
Death
6 Jul 1189, Chinon Castle, France
Burial
Fontevraud Abbey, France
Marriage
18 May 1152, Bordeaux Cathedral, Bordeaux, France
Notes for Eleanor Of Aquitaine
Duchess of Aquitaine in her own right.
Other sources say she died 26 Jun 1202 and she was born Chateau de Belin. Burke thinks she died 1162. Countess of Saintonge, Angoumois, Limousin, Auvergne, Bordeaux, Agen.
Internet Sources
Wikipedia
http://en.wikipedia.org/wiki/Eleanor_of_Aquitaine
Notes for Louis VII (Spouse 1)
Notes for Henry II (Curtmantle) (Spouse 2)
Known as Henry Curtmantle, Henry FitzEmpress or Henry Plantagenet.
Reigned 1154-1189. He ruled an empire that stretched from the Tweed to the Pyrenees. In spite of frequent hostilties with the French King his own family and rebellious Barons (culminating in the great revolt of 1173-74) and his quarrel with Thomas Becket, Henry maintained control over his possessions until shortly before his death. His judicial and administrative reforms which increased Royal control and influence at the expense of the Barons were of great constitutional importance. Introduced trial by Jury. Duke of Normandy.
Internet Sources
Wikipedia
http://en.wikipedia.org/wiki/Isabella_of_Angouleme